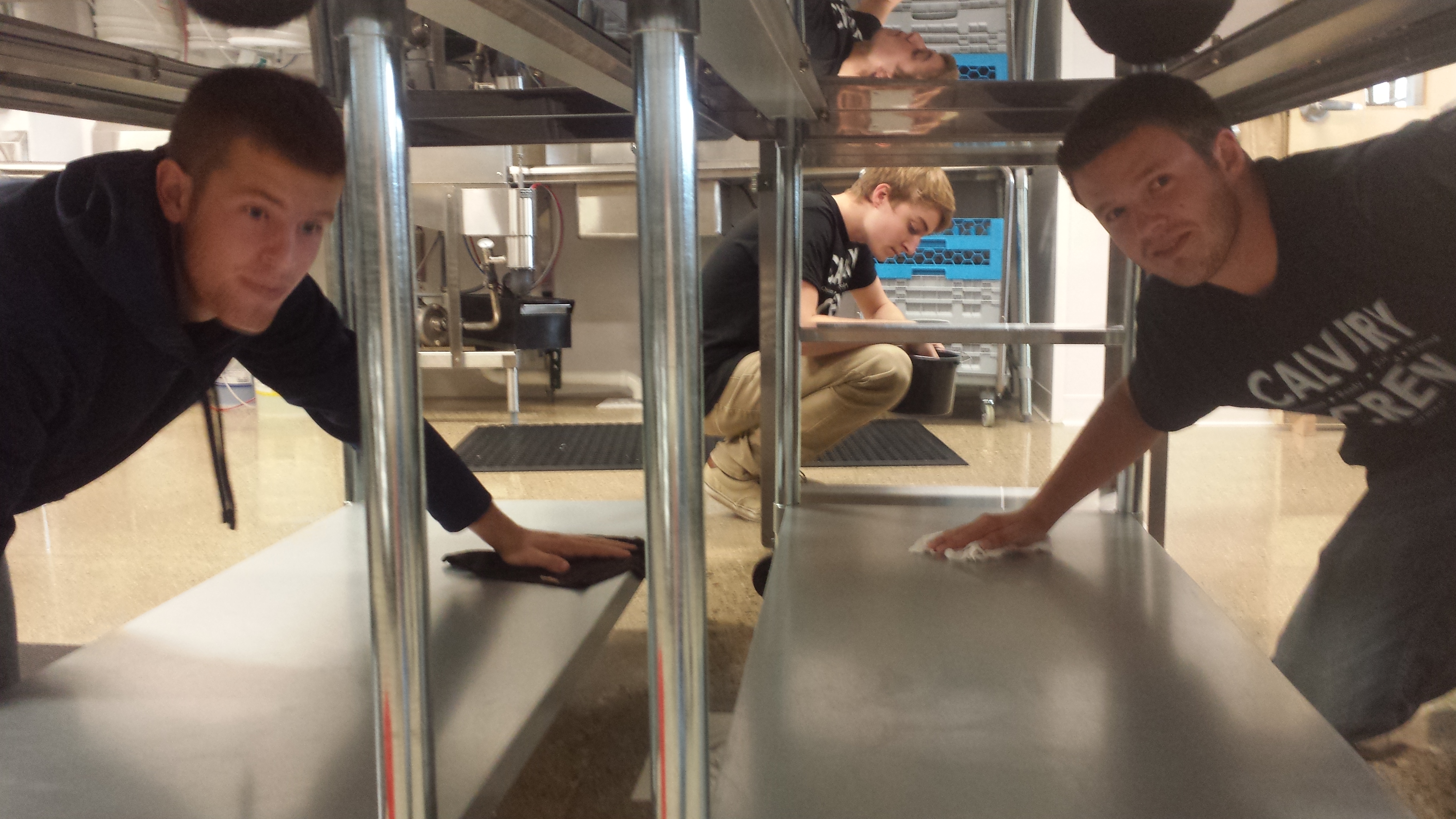 A Discipleship-Focused Approach
From the design of the building to the structure of our day, at Calvary Schools of Holland High School we strive to live out the Calvary mission: building Christian character and developing servant leadership within the context of a quality education. As a small, private school we leverage our size and flexibility to serve each individual student and family, unfettered by the ever-changing demands of the prevailing one-size-fits-all educational approach. We are focused on the education of the whole person, and as such we partner with the student's entire community to prepare our students for real life.
Small class sizes enable us to prioritize relationships—amongst our student body and between faculty and students. Our faculty and staff strive to maintain an atmosphere of approachability, where students are known and challenged to grow in the context of a safe community. Our culture of kindness and respect offers our students a haven of refuge during a time of life when a multitude of forces, both external and internal, threaten to derail critical character foundations. We aim to be an advocate for both student and parent—strengthening Biblical values while facilitating conversation about, and exposure to, cultures outside of their own.
We begin and end our week with a "Morning Moment" in the atrium. Led by our senior class, this time is designed to quiet our hearts and direct our focus upward. At weekly chapel meetings, students and staff worship together and are challenged in the Word by faculty members and guest speakers from the community. The school schedule is designed to provide students with ample opportunity for both leadership and service as foundational pieces of habit-training, growth and maturity.
Our high school facility was completed in 2007 and is now home to our 8th through 12th graders who enjoy access to 40 acres with multiple fields, an adjoining creek, and recreational and athletic facilities. Classrooms are organized around a large common area to encourage relationship-building throughout the day. To supplement our already-rigorous academic curriculum, we also provide diverse academic enrichment opportunities such as dual enrollment in area colleges, mandatory community service hours, SAT/ACT prep, and courses at the Careerline Tech Center. Teachers at CSH are characterized by their strong commitment to academics as well as their passion to model a Christ-like life as they mentor students.
Dual Enrollment
Calvary students have a unique opportunity to earn college credits for courses taken during high school. We partner with Grand Rapids Community College to offer students college classes, taken either locally or online, for which both high school and college credit is earned—at no additional cost to families. Some students have gained up to 29 hours of transferable college credit by the time they graduate, equivalent to a full year of college coursework.
Power Plus
"Power Plus" is an exciting and well-established foundational component of our holistic educational approach. We place students in small groups which are led by teachers and CSH community members and then commission them out to serve the local community. As an outworking of these groups, students are equipped, discipled and sent out to actively engage in community service within our school body and the greater Holland community. These groups provide another context in which relationships and character are intentionally developed and discipleship opportunities are expanded.
Among the many benefits of our Power Plus program is the addition of community service hours for students to leverage in their college, scholarship and job applications. Throughout the course of their high school career, students have the opportunity to earn up to 270 hours of total community service—gained entirely within normal school-day hours—that has given many of our students a demonstrable edge amongst competing applicants.
Winterim
For over 15 years, our high school has pioneered an innovative opportunity for alternative education. Each school year during the month of January, our high school students spend two weeks taking classes specifically designed to encourage them to explore their unique gifts and interests, such as aeronautics and drones, self-defense, driver's education, pottery and sculpting, photography, knitting and sewing, rock climbing, guitar and more. Course offerings rotate from year-to-year, and classes are taught by teachers as well as professionals in the community. Additionally, seniors have the opportunity to intern with multiple area businesses and ministries.
If you are interested in finding out more about the distinctives of a Calvary High School education, contact us at info@cshk12.org, or call the Laketown campus at (616) 396-4494 and schedule a visit.